There are a few things that set horse racing apart from other sports events. First of all, it is always in the open, so people who prefer to be outside really appreciate the setting. Second, admission is free or very cheap in the majority of cases, so you don't need to spend tons of cash just to attend. Third, it has a great tradition and history behind it, and anyone who loves horses looks forward to attending.

Because of this high accessibility, people love to place their bets and finding the best betting sites is easier than ever. After all, people get inside for free, so they don't mind spending some cash to make the race more exciting. So, if you ever find yourself in a situation when you would like to bet on a horse, go over the following to gain a better understanding of the whole process.
Types of bet
The wagers are split into two categories – straight wagers and exotic wagers. In other words, you will first need to decide which one of these two you would like.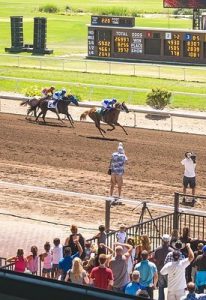 Straight Wagers – Here you will get the chance to bet on which horse will finish the race first, and that type of straight wager is called "WIN". You can also select the type called "PLACE" and here you bet on a horse that will either finish first or second. The third type is called "SHOW" and this bet implies that your horse will end up with first, second or third place. Lastly, there is "ACROSS THE BOARD" bet, which implies you made all of the 3 previous bets combined. You can also place mixed bets like Win/Place or Place/Show.

Exotic Wagers – There are 4 types of exotic wagers – Exacta, Quinella, Trifecta, and Superfecta. Exacta is when you pick two horses and they need to finish first and second in the exact order you pick. Quinella also means you are picking two horses, for first and second place, but either one of them can be first or second. Trifecta is when you pick 3 horses and they need to finish first, second and third in the exact order, and Superfecta is the same – it just adds another horse for a fourth place. A minimum entrance fee for Superfecta can be as low as 10 cents which is why it is really popular.
What to say when placing your bet
When you place your bet, you need to have the cash ready in your hand and know exactly what type of bet you want. You don't want to be that person holding the line since everything is fast paced and a lot of people are waiting to place their bets before the race starts. Just say racetrack and race number, the amount of money you are betting, the type of bet and a number of the horse/horses.
How to improve your odds
Remember to look at the horse's performance history, and on which surface types he/she achieved those results. Go over the history of the jockey as well, and simply consider your odds.